The Sarah Lawrence College campus offers a convenient connection point for students embedded in experiential learning opportunities throughout our surrounding communities. Footsteps away from the Village of Bronxville (its moniker 'The One Square Mile' town), our students can also reach the heart of two of the state's largest cities - New York & Yonkers - in mere minutes. 
New York City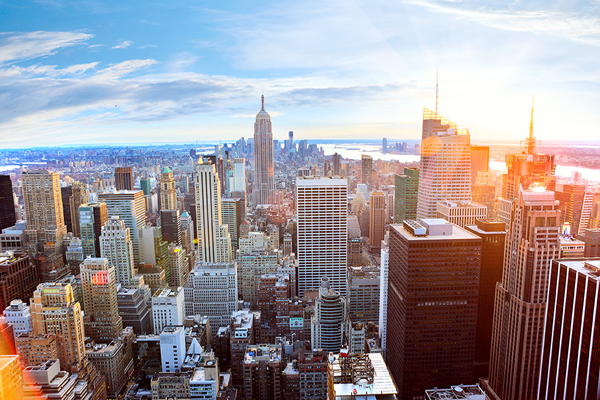 New York City is yours to explore, 24 hours a day. Think of it as an extension of the Sarah Lawrence campus—a cultural, research, social, and career resource without peer.
Enjoy a Michelin-starred pizza at Babbo or or feast on gourmet street-eats at Smorgasbord. Haunt the vinyl racks at a record store in the East Village or head to the legendary Village Vanguard to hear some great jazz. Make your way uptown for world-class music, ballet, or opera in and around Lincoln Center and Carnegie Hall.
Better still, take advantage of the free and discounted tickets Sarah Lawrence makes available to many of the City's most desired destinations. Free shuttle vans take students to the Bronxville train station and back to campus seven days a week from 5:45 p.m. to 2:15 a.m.
Internships in the City
New York City is host to many prestigious internship opportunities available to Sarah Lawrence students. Learn by doing at major cultural, educational, medical, and corporate institutions—or at a world-changing NGO. Learn about internship opportunities at the Office of Career Services.
Recent internships in New York City have included:
ABC
American Civil Liberties Union
Amnesty International
Atlantic Records
CNN
Guggenheim Museum
HBO
Jazz at Lincoln Center
Johns Hopkins Huntington's Disease Clinic
Legal Aid Society
Memorial Sloan-Kettering Cancer Center
Metropolitan Museum of Art
Mount Sinai Medical Center
New York City Department of Education
The New York Times
Parsons Dance Company
Planned Parenthood
Polo Ralph Lauren Corp.
Random House Publishing
Sotheby's
Tribeca Productions
Alumni Connections
Not only can students take advantage of the wealth of internships New York City has to offer, but also the many alumni and faculty connections within the City. For example:
Start the day with a slice of sweet potato pie at Miss Mamie's Spoonbread Too on 110th Street; both the recipe and the restaurant are the brainchild of alumna and multihyphenate Norma Jean Darden '61.
Head to the Asia Wing of The Metropolitan Museum of Art to view more than 300 pieces of Japanese and Korean art collected and bequeathed by Mary Griggs Burke '38.
Take the 4/5/6 train to Soho and experience the flagship stores of Vera Wang '71 and Sam Edelman '73; the founders and namesakes of both brands are SLC alums.
What to Do
What is there not to do in New York City?
One popular outing for Sarah Lawrence students: getting student-rate tickets for many of the musical events at Carnegie Hall, Town Hall, the Metropolitan Opera, and various studios (available from the music librarian). Programs for these events are posted on the bulletin board outside the William Schuman Music Library in Marshall Field. Students should also check the Student Life office for student-rate tickets for theatre productions and concert performances.
In addition, the Office of Student Involvement & Leadership regularly purchases a block of tickets to theatre, music, dance, or cultural events. This is an easy and inexpensive way for undergraduate students to explore New York City and Westchester County. Van transportation is provided, and the trips are available free or at a nominal charge to students.
Find out more about New York City's latest happenings:
Ways to Get There
Train: The cheapest way to get to Manhattan via Metro North is by ordering  tickets on the Metropolitan Transit Authority (MTA)app. Remember, the last train home to Bronxville departs Grand Central at 1:50 a.m.
Bus: It takes about 20 minutes to get to the Bronx from various stops around campus. From the Bronx, you can catch the subway to various destinations in the five boroughs. The Student Life office has bus schedules on hand, which are also available at Bee-Line Bus online.
Yonkers, Bronxville, and the Hudson Valley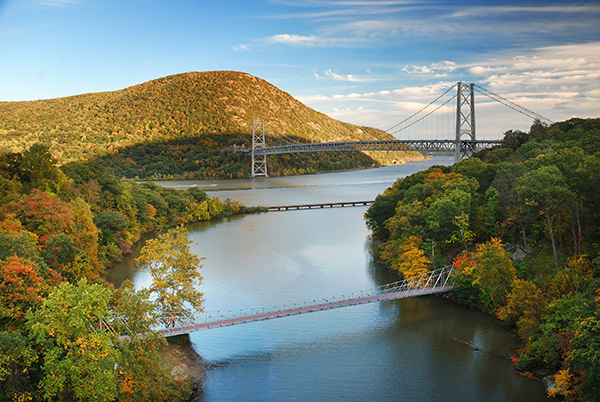 The Sarah Lawrence campus is situated in southern Westchester County, New York, on the eastern edge of the city of Yonkers and adjacent to the Bronxville village center.
The communities of Bronxville, Yonkers, and others in the Hudson Valley offer students a myriad of cultural opportunities, shopping, dining, and entertainment options.
Yonkers
The City of Yonkers is home to the College's satellite research facility and a host of community partners, making it another home away from campus for our students. On weekdays, you can catch the shuttle to the Center for the Urban River at Beczak to access experiential learning opportunities and a host of other activities in Downtown Yonkers. Within walking distance from CURB, you'll find a floating farm along the Hudson River, a monument dedicated to hometown hero Ella Fitzgerald, and hand-churned ice cream & banana pudding at the Lost Borough. Whether you're headed to the public library or the non-profit kayak & paddling club, you can't miss the view of the New Jersey Palisades across the river. 
Closer to campus, you can walk or take the shuttle to Cross County Shopping Center, which features an array of department stores, fast casual restaurants, and a 130,000 square foot Target. If you're picking up groceries at the Stop & Shop, take the shuttle back; it loops between Cross County and the Barbara Walters Campus Center. 
For more about Yonkers:
Bronxville
Bronxville comprises one square mile of stately homes, trendy restaurants, and small boutiques. This well-established suburban enclave, bounded on one side by the Bronx River, has the feel of an English village—a mix of Tudor, Colonial, and Victorian architecture nestled among manicured lawns and gardens.
Sarah Lawrence students frequent Bronxville's five independently owned coffee shops & cafes, catch foreign and innovative films at a fine arts theatre; and buy comestibles at the Village's spring and fall farmer's markets. Students can also be found beneath the tile roof of the Bronxville train station, awaiting the Metro North train for the 30-minute ride to downtown Manhattan.
For more about Bronxville:
Westchester County & the Hudson Valley
Many more cultural events, historical landmarks, and recreational opportunities can be found in the towns and cities throughout Westchester County and the Hudson Valley.
Find out more about Westchester County and the Hudson Valley.